Posted on October 21, 2015
For teachers in U.S. public schools, an initial question about international literature may be, "How does it support the Common Core Standards?" The short answer is, "pretty well": international literature provides opportunities for the kind of deep, close, careful reading that the standards promote. On the WWB Campus site, you'll find:
Short, complex texts, ideal for close reading
Teaching ideas aligned to the ELA Anchor Standards, and supporting growth through Webb's Depth of Knowledge Matrix
A balance of fiction, nonfiction, and poetic texts, with additional nonfiction in the Context and Playlist tabs (Increased study of nonfiction is one of the CCS's Key Shifts in ELA)
1. Finding Standards
On Words Without Borders Campus, you'll find "Teaching Ideas" next to each piece of literature. Click on the "Teaching Ideas" tab on the right-hand side to view a selection of ideas, all aligned with the CCS. Here's a screenshot of Teaching Ideas for the Chinese poem "Two or Three Things from the Past," by Yu Jian. "Teaching Ideas" is circled in red.

There are two to five different teaching ideas for each piece of literature. At the bottom of each Teaching Idea, you'll see an italicized list of the ELA Anchor Standards the idea addresses.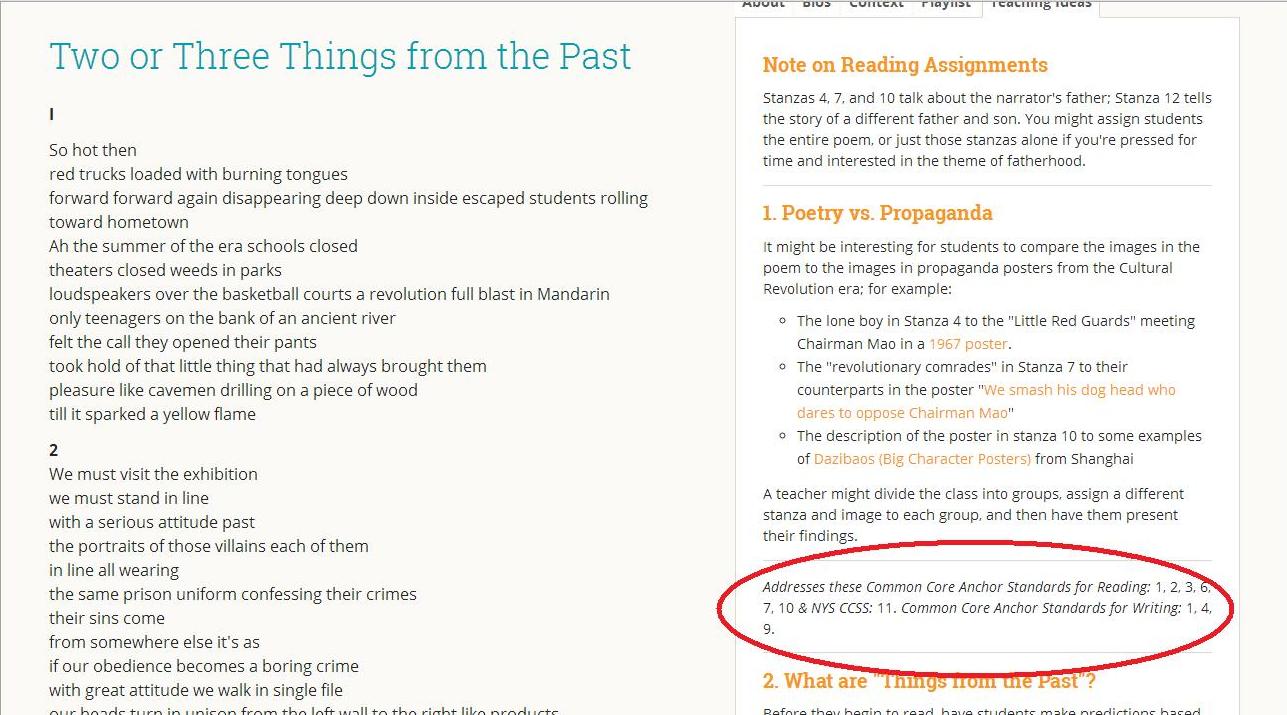 All of the Teaching Ideas on WWB Campus support Reading Standard 10 (Read and comprehend complex literary and informational texts independently and proficiently) as well as New York State Reading Anchor Standard 11, which specifies that students should be reading literature from a variety of "world cultures." Also, although we only specify the Anchor Standards for Reading and Writing, the ideas also support the standards for Speaking and Listening, as well as Language, especially if students revise the writing they produce.
2. Specifying Grade Levels
Teachers can adapt the Anchor Standards to students' grade levels by simply matching them to grade-level-specific versions for literature. For example, Reading Anchor Standard #1 is:
Read closely to determine what the text says explicitly and to make logical inferences from it; cite specific textual evidence when writing or speaking to support conclusions drawn from the text.
For an 11th or 12th-grade classroom, the grade-level-specific version of this standard for literature, RL11-12.1, is:
Cite strong and thorough textual evidence to support analysis of what the text says explicitly as well as inferences drawn from the text, including determining where the text leaves matters uncertain. (Page 52, New York State P-12 Common Core Learning Standards for English Language Arts & Literacy, PDF format)

3. Specifying Types of Literature
The Common Core Standards for reading are split into two categories: literature and informational texts. Although most of the texts we publish are literary, the Teaching Ideas on WWB Campus provide opportunities to address both sets of standards. Many of the teaching ideas suggest specific informational resources to help contextualize the literature for students -- essays on culture, journalistic pieces, maps, etc. By using those resources in class, you can address some of the CCS for reading informational texts as well as literature.
For instance, Teaching Idea #1 for the poem "Two or Three Things from the Past" has students analyze images from propaganda posters, and compare those images to the ones in the poem. As part of the activity, students evaluate the persuasive power of propaganda posters, which addresses Standard 7 for informational texts in 11th and 12th grades: Evaluate the advantages and disadvantages of using different mediums (e.g., print or digital text, video, multimedia) to present a particular topic or idea.
If you'd like to look at an example, we've created a detailed sample lesson plan using Teaching Idea #1 from "Two or Three Things from the Past," the poem discussed above. (Thanks to Sophie Danis Oberfield, an English teacher at Stuyvesant High in New York City, for feedback and advice about the plan!)
So, if you're working at a public high school in the U.S., and would like to address the CCS with international literature from this site, just click on the Teaching Ideas, find the CCS at the bottom, and customize as needed. Feel free to contact us with any questions or comments -- or to let us know how you're teaching and learning with international literature.