Posted on November 15, 2017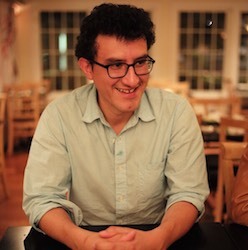 According to his biography, Peruvian author Marco Avilés is currently working on a memoir about being "a Latino immigrant in a not very nice time for Latino immigrants." The same witty understatement and sense of perspective is evident in his essay "I Am Not Your Cholo" (translated from Spanish by Sophie Hughes), published as part of Words Without Borders' issue of literature in translation, written by authors living in the United States.
What does cholo mean? Avilés writes:
Trump has made it easy for me. A cholo in Peru, I told them, is like a Latino in the US: someone with dark skin who has come from far away, from the south, from the mountains.
His essay is notable for the way it weaves together Avilés' personal experiences with a far-reaching discussion of racial history in Peru and the U.S, beginning with the provocative question, "What are two gringos doing serving up hamburgers in the Mecca of Latin American cuisine?" and continuing on to encompass the battles for school integration in the U.S., the author's decision to become a journalist, and much more. It ends with these inspiring lines:
We cholos, Latinos, and immigrants have come a long way and carry a complex history with us. The story of where we come from isn't our disadvantage, as we're told, and as we tell ourselves. On the contrary, it is our strength.
In teaching this essay, to offer some context on the U.S. civil rights history to which Avilés alludes, you might show a clip from a film he mentions in the essay, the James Baldwin documentary I Am Not Your Negro.
(Watch on YouTube)
This statement from Baldwin is of particular relevance: "It is entirely up to the American people whether or not they are going to face and deal with and embrace this stranger whom they've maligned for so long." (Beginning at 0:58, Baldwin addresses a racial slur, and repeats the slur in making his point.)
Students interested in learning more might watch a short film about Dorothy Counts, who integrated a high school in North Carolina and was viciously harassed; Counts appeared in the Baldwin documentary, and Avilés describes filmgoers' experience of watching her walk to school through jeering crowds.
To help students begin to learn about Peru, and what it means to be called a "cholo" there, you might have students read the "History and Ethnic Relations" section of the country profile on Everyculture.org. Also, a June 2020 New York Times editorial, while not specifically mentioning Peru, explains why "Latin America Is Ready for Its Black Lives Matter Reckoning."
If students are interested in further exploration of the Quechua culture and language Avilés mentions, they can also take a look at the Everyculture page on the Quechua (KECH-wah) culture, which descends from the Inca civilization.
In a class discussion, you might solicit students' thoughts and opinions on the ideas in thought-provoking passages from Avilés' essay, such as this one:
Is it so hard to see the privilege when you're the privileged one? Is it so hard to see that if you're born with white skin, with a "good surname" and with money, things will be easier for you than for the rest? For starters, if you enjoy those privileges, you don't have that constant voice in your head telling you: You're cholo, you won't get the job because you're cholo, you can't come into the club because you're cholo, they're working you harder than the rest because you're cholo.
Potential assignments might include personal, written responses to "I am not your cholo," or a more formal essay modeled on Avilés': Write about a social issue you have personally experienced or witnessed, weaving together personal experiences and reflections on relevant history. Challenge: include some thought-provoking questions, like those in Avilés' essay. Or, in a fictional vein, students might try to describe Avilés' classroom visit from the perspective of one of the students in the class.
Other literature on WWB Campus that addresses issues of racism and stereotyping includes the story "A Dream in Polar Fog," set among the indigenous Chukchi people of Siberia; and "Marías Mazahuas," a poem about indigenous migrants in Mexico. Or, you might teach the essay alongside such works as the Langston Hughes poem "Theme for English B," Esmeralda Santiago's When I Was Puerto Rican: A Memoir, Richard Wright's Native Son, or Ralph Ellison's The Invisible Man.
What role do issues of race and class play in your students' lives? How, if at all, do you try to expand their understanding of those issues? Let us know on Facebook or via the Contact form.