Posted on August 14, 2018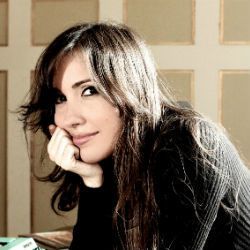 I remember the first one so well. I was in the bathroom brushing my teeth when, in the mirror, I spotted the reflection of a shadow making its way down the hall.
That sinister, shadowy creature: a baby.
This month, in the magazine Words Without Borders, Panamanian author Cheri Lewis depicts "a household inexplicably deluged with infants" in her short story "Open Hands," translated from Spanish by Pamela Carmell. This darkly humorous tale borrows from several genres, including detective fiction:
The house wasn't in disarray, but judging by the way the drawers hung open, it was clear the babies had searched through them.
Students can read it in Spanish as well as English, and teachers of students with Spanish skills might ask them to compare the two versions, beginning with the title. (In Spanish: "Abrir Las Manos.")
Students might also discuss the story's larger meaning:
What happens to the women in the story, and why?
How much choice do the women seem to have?
Why might the author have chosen to make the "home invaders" babies?
What does the last line suggest about the characters? About people's attitudes towards newcomers?
Educators can teach "Open Hands" alongside other stories that introduce fantastical elements into the everyday, such as these works from Japan, also available on WWB Campus: "Once Upon a Swing" and "When My Wife Was a Shiitake." The Russian novel The Master and Margarita, in which the Devil comes to Stalin-era Moscow, would also make for an interesting pairing.
After reading, students might write their own stories combing realism and fantasy. A few sample prompts are below.
Select one detail of the everyday world, and change it. (For example, a family gains the power of flight; the Atlantic Ocean disappears.) Set a story in that suddenly transformed world.
Take an ordinary object or person, and tell a story that makes the object or person seem threatening, using descriptive details and events.
Students may be interested to learn that Cheri Lewis is also a creative director for animated series and online comic books. They can see examples of her work on FlickR.