Posted on May 18, 2020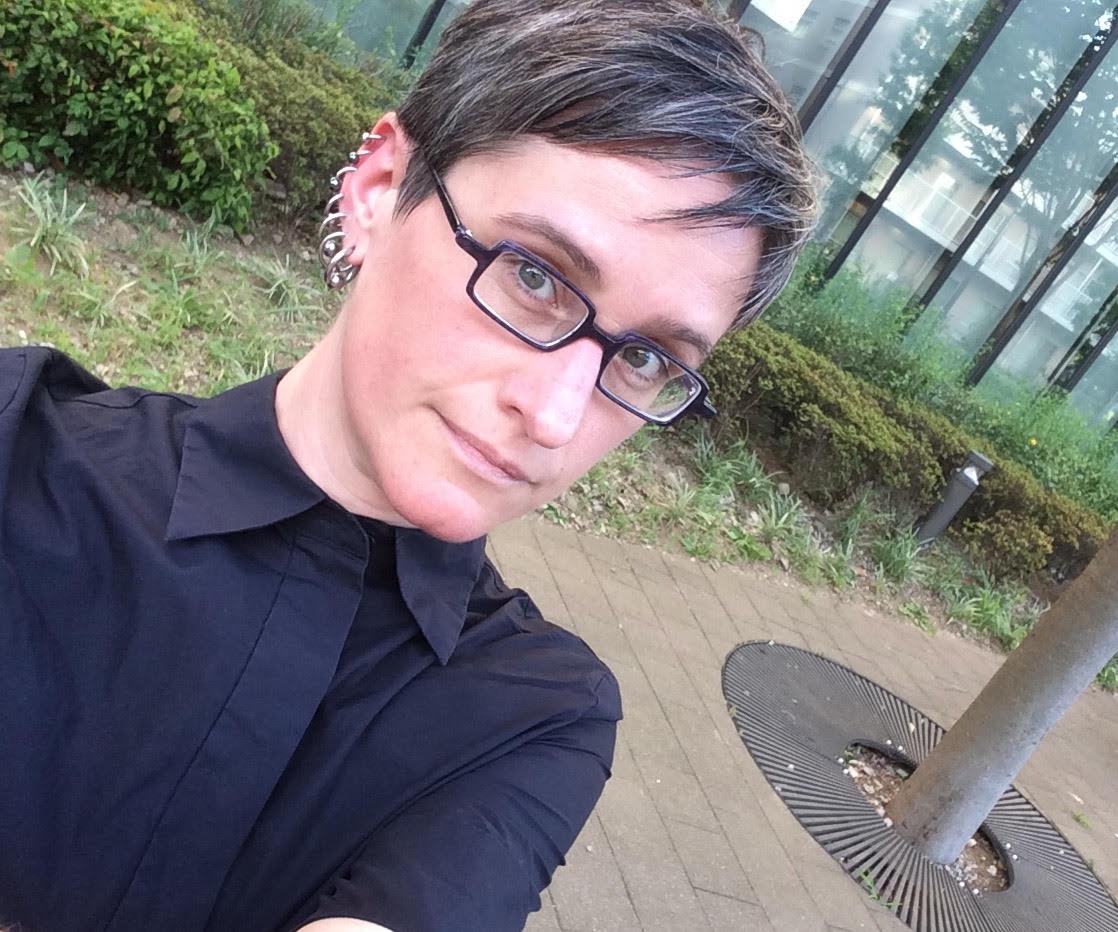 Here in New York, we are in our second month of shelter-in-place, and one of the things we look forward to doing again someday is visiting friends. Akino Kondoh's charming graphic tales of city life reminded us of those times, and we'll be talking about them this Wednesday at 5 pm ET: https://www.eventbrite.com/e/teaglobally-5-pm-et-tales-of-a-japanese-cartoonist-in-new-york-tickets-105335134222

The stories, translated by Jocelyne Allen (who will be joining us for the lunch!) are entitled "Noodling in New York." They depict Akino sampling new foods, meeting a friend's cat, struggling with English, and navigating life between two cultures -- a familiar challenge for many of our students.
Below, you'll notice that the stories are meant to be read from right to left -- which gives readers a small sense of what it's like to adjust to an unfamiliar language.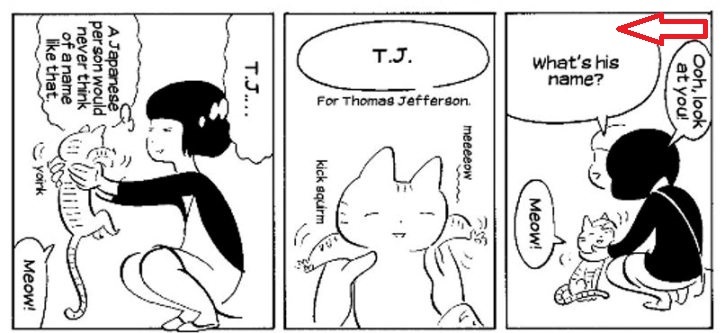 Panel from "French Friend's Pet," transl. by Jocelyne Allen.
We will be co-hosting the "tea" with our friends at Re-imagining Migration. Small-group discussions will focus on what it is like to be a newcomer.
Jocelyne's Responses from Monday's Meetup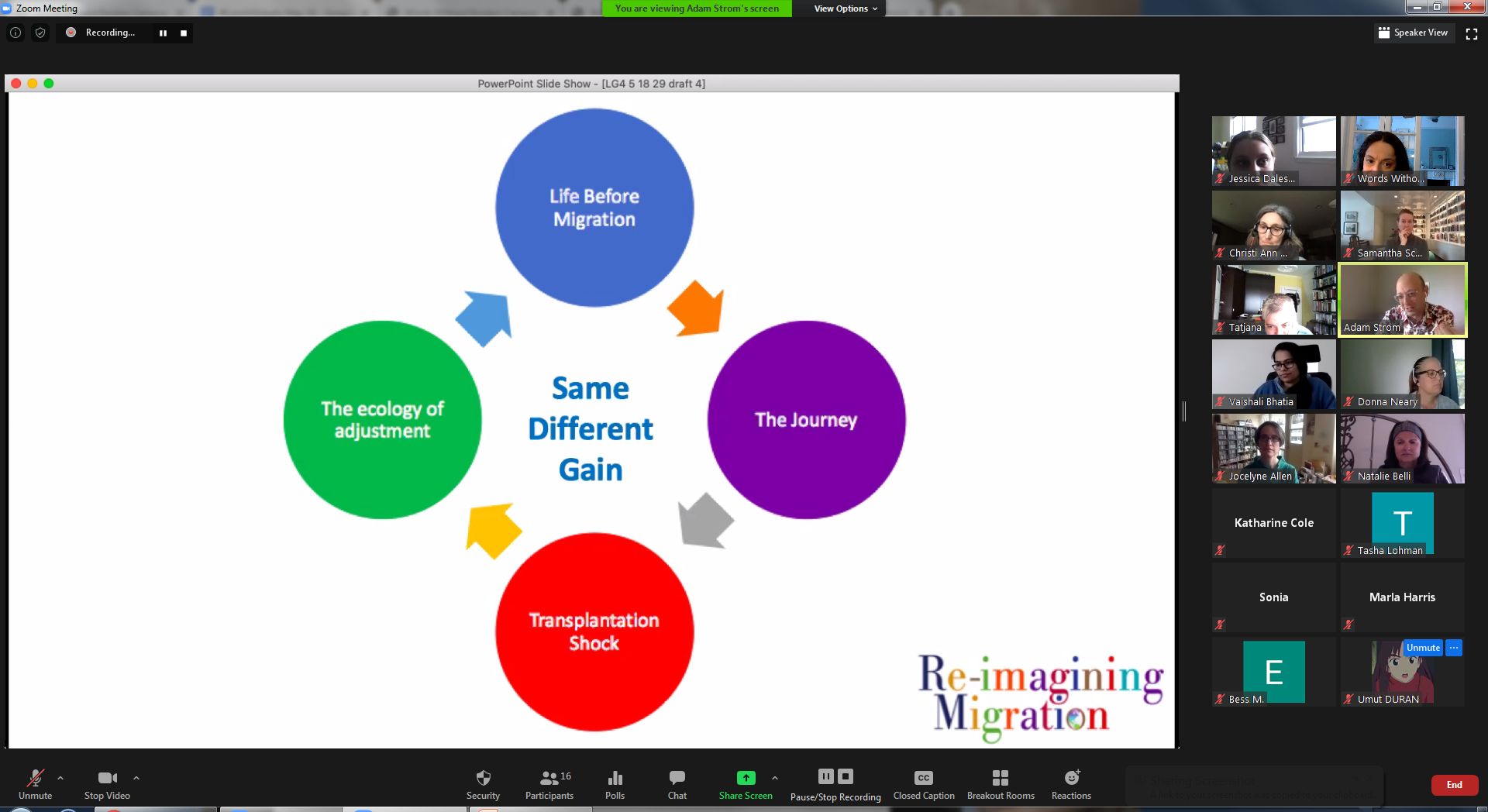 From Adam Strom of Re-Imagining Migration: How mainstream is the manga scene in Japan? Are they read like more traditional forms of literature?
Manga is quite mainstream in Japan. It's sold in pretty much every bookstore, and there are many, many more genres than what gets translated into English. There is fiction manga of a wide variety of genres, and autobiographical and non-fiction manga on various life experiences ranging from child-rearing to alcoholism to living as a queer person. There's really a niche for every reader. So yes, they're seen as another form of literature, essentially.

From Christi Ann Merrill of the University of Michigan: I wanted to ask about animal noises and other sounds that are not strictly language, but need to be represented in the comics.
These sound effects are actually a really integral part of Japanese. A wide variety of noise words are used in regular conversation in Japanese, which is part of what makes them so hard to translate. For instance, "shin" is the sound of silence, but it is also used as a word for "silence". But when it's in the background of a panel of manga to indicate how silent the room is, an English reader expects some sort of sound word and not just the word "silence" spelled out. The sound effects are part of the art, but they're also part of the language, so there's a fine line to walk there in how best to convey this dual meaning. As always with translation, it depends on the context and the intended audience.
Other Work from Akino Kondoh
Akino Kondoh came to New York to collaborate with jazz musician John Zorn. An album cover she designed for him is below, along with a sampling of music.

In her commentary on her award-winning, visionary animated short, "Ladybirds' Requiem," Akino says:

I always think about and remember my memories again and again and again . . . that memory, transformed into other shapes, that changes again and again and just becomes my work.
Join us on Wednesday, May 20th to talk about that work and how it might inspire students.
P.S. Know Japanese? Visit Akino's online magazine here: https://www.akishobo.com/akichi/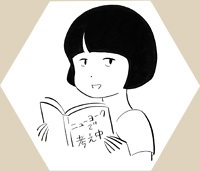 Cartoonist Akino Kondoh's self-portrait from her online magazine.